Braids are easy and always a cool choice for your hair that can last for months, without any need to color or arrange your hair. Besides, it protects your hair from environmental influences and gives a bit rest. The look of braid reflects the creativity and your state of mind, so it should be one that is cool and appealing. You can add clips, pins and patterns as well, but how do you know which are the trends for 2019? The keash braid experts are about to reveal you the most interesting ones!
Criss Cross Style
This simply never gets old! You will look like a goddess with this style of braid and keashbraids.co.uk definitely puts this style among the top 10 braiding trends for 2019! This is a perfect choice for every occasion – whether you are going to a beach, work or shopping, you will look amazing!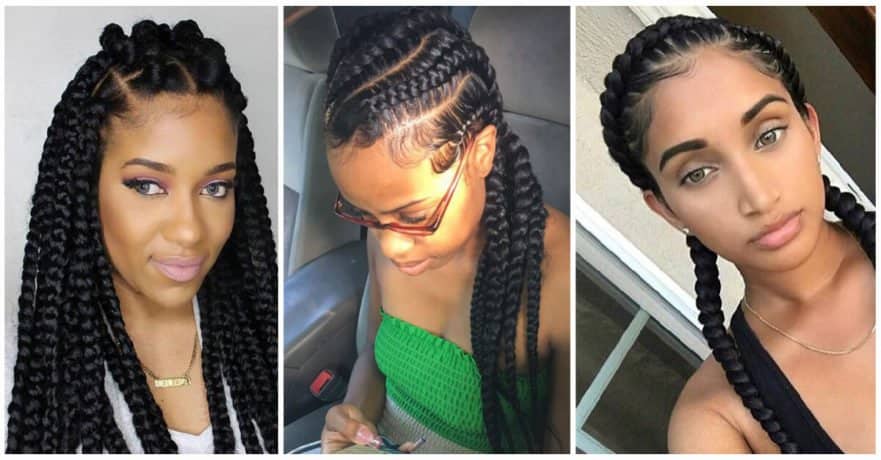 Just get up at the morning, without any worry for your hairstyle, and continue with your day relaxed without any hair stress! Just make sure you get the right size! The best part is that you can take these out easily and whenever you want!
Swept cornrows
These braids are a bit different from what we usually see and expect. This style is often seen in African American population and it is characterized because thee braids are going "on the side" instead along the vertical axis of your head. The hairstyle reduces the overall heat so it is the perfect choice for hot summer days.
It can last for weeks without any need to edit anything. Also, this style is a bit more demanding when creating it but provides a cute, neat and relaxed look to your hair. Ah yes, it can be a bit painful, but that depends actually on the person that is making these on your head. However, any hair by keash braids is styled and made carefully so the pain is minimalized.
Asymmetrical braids
A lot of braid bars advocates the use of symmetrical braids as these are creating an interesting and stylish look that is very complex, but highly appealing at the same time. When you look at the regular braids, they are cool but the asymmetrical ones are creating that complex look that will never bore you. They are available in different sizes and the combination of chunky and thin ones gives the stylish and at the same time, modern look. The gold cuffs can be added later and get more personalized look!
Braid ponytail
One of the most unique and prominent styles of braids is definitely a braided ponytail. While it gives the sexiest look, it gives the touch of elegance at the same time, making it perfect for any kind of formal event or casual walk. However, the only problem you might face is the weight of the ponytail, as it can become a bit heavy. Still, it is the style that a lot of women prioritize and it should be on your menu for when you look for something elegant and sexy.